Earth Minded Tees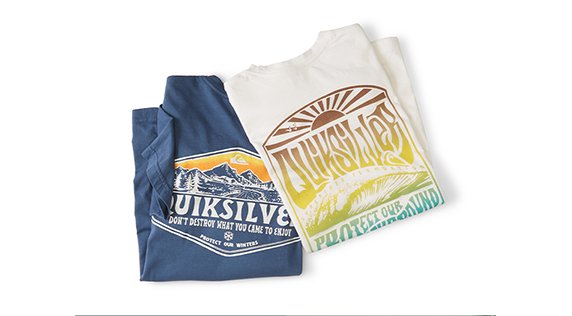 In honor of World Oceans' Day, we partnered with two companies that support the mountain and the wave: Surfrider and Protect Our Winters. All proceeds from our 'Earth Minded' tees go to Surfrider and Protect our Winters.
Founded in 1984, the Surfrider Foundation is a grassroots nonprofit organization dedicated to the protection and enjoyment of the world's ocean, waves and beaches, for all people, through a powerful activist network. What started as a group of surfers in Malibu, California that came together to protect their local surfbreak and beach from overdevelopment and pollution has grown into one of the most powerful environmental conservation groups in the world.
In 2019, Quiksilver joined the Surfrider's Surf Industry Coastal Defender program- a coalition of surf industry brands standing behind Surfrider's efforts to eliminate plastic pollution, protect water quality, defend our coasts from the threats of climate change and ensure beach access for all.
This year, we are proud to support the Surfrider through the sales of a limited edition t-shirt inspired by the ocean we all love and strive to protect.
Surfrider has built a network of passion-driven individuals who are taking action and making change in their local communities all the way to the federal level. They are providing a voice for our ocean and beaches. Surfrider currently maintains more than 170 volunteer-led chapters and student clubs in the United States. Join Quiksilver in supporting Surfrider's mission. Take action and get involved!
In addition, we also are working with Protect our Winters (POW). Founded in 2007, by professional snowboarder Jeremy Jones, Protect Our Winters helps passionate outdoor people protect the places and lifestyles they love from climate change. They are a community of athletes, scientists, creatives, and business leaders advancing non-partisan policies that protect the world today and for future generations.
Their goal? Achieve carbon neutrality by 2050. To get there, they believe the world must embrace renewable energy, electric transportation, carbon pricing policies and prevent fossil fuel extraction on public lands. Fortunately, achieving goals is no problem for the outdoor community.
Learn More and Get Involved
● Become a Surfrider or Protect Our Winters member.
●. Sign up for Surfrider's newsletter, Making Waves or Protect Our Winters newsletter to stay in the loop.
● Follow along and join the movement on social media: Surfrider Instagram, Surfrider Facebook, and Surfrider Twitter and POW Instagram, POW Facebook, and POW Twitter.
● Take action by supporting Surfrider campaigns right from your computer, through their Action Alert webpage.
● Find your local chapter to stay up-to-date on Surfrider happenings in your area.
● Check out Surfrider's Coastal Blog for news on emerging science and policy.
Shop the 'Play Ground Organic T-Shirt' to support Surfrider.
Shop the 'Came to Enjoy Organic T-Shirt' to support Protect Our Winters.